Why the Internet is The Most Important Source for Cars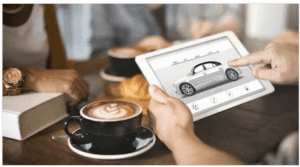 A growing trend has recently emerged. It involves critics downplaying or trying to minimize the impact of the internet on retail sales and commerce. There are those who attempt to go against the widespread belief that the internet has revolutionized the way people buy and sell things. If you are in the used car business, the internet is the way to go.
According to a 2013 study used car buyers spent 77% of their time online. And there are many sites that you can look online to gather all the information about cars. Buyers are using third-party sites that rank and recommend used car dealerships. This can significantly reduce the time it takes for a buyer to find the vehicle they like at a price they can afford.
The proliferation of mobile devices is also a contributing factor. The use of iPhone's, iPad's, Androids, and other mobile devices means that people can scan through their choices at their convenience.
What are the top sites that are the most important source for car researching?
Car Gurus. Car Gurus was founded in 2006 and has become a leader in traffic for all car shopping enthusiasts. The website traffic has increased by 10 Million a month since between 2009 and 2011, and most dealerships use this site to posts their vehicles. The site is deigned to assist local shoppers to compare vehicles and then contacting the sellers easily. One other interesting fact about Car Gurus is that they have a discussion platform where experts can provide details, information and reviews.
Auto Trader. Auto Trader is based in Atlanta and was founded in 1997. It is an online site where you can shop or sell cars. You can search vehicles by make, model, price range, engine, mileage and color. They have millions of vehicle listings and many used car dealerships will feed their inventory to the site in order to compete with others.
Cars.com. Cars.com is well known as an automotive classified website that was founded in 1998. They acquired a new venture called Dealer Rater which is a rating engine for all dealerships and cars. Both systems enable this site to give car buyers good information about vehicles they may be searching for.
Edmunds. Edmunds is a resource website that has tons of automotive information. It is headquartered in California and was founded in 1966. The site has tools which help car researchers for example the used car inventory tool, and the true market value tool. On their website you can compare vehicles in your market and get information on the vehicles.

The bottom line is that the internet remains the best resource for finding and buying a new or used car. ALM Roswell sends it used cars cars to these sites but if you are looking for a better rate, visit us and we will work with you to ensure you get the best deal.